Life imitates art and many times, art and artists even take inspiration from literature. Here are just some famous paintings and etchings that were influenced by literary classics…
1. Ophelia by Sir John Everett Millais
Probably the most famous artworks inspired by literature, Millais brings to life (unintentional pun) the Bard's mesmerising heroine Ophelia from 'Hamlet', specifically focusing on a few moments before her tragic death by drowning. While regarded as a masterpiece now, it was initially received with a mixed reception when it was exhibited at the Royal Academy. It now receives grand adoration for its depiction of beauty and nature. Millais' reimagining places Ophelia in the Danish River, floating down to her impending doom while circled by flowers which is a tribute to Shakespeare's description of her garland in the play. A single red poppy denotes sleep and death and Ophelia is posed with a slightly upward gaze to the heavens with outstretched hands, much like the traditional depiction of saints and other such holy figures. 
2. Don Quixote by Pablo Picasso
Picasso who was known for his Cubism felt inspired by Miguel Cervantes's work and his bold lines in this painting highlight the erratic nature of the two protagonists- Sancho Panza and Don Quixote and the ludicrous nature of their quest. The artist draws comparison between both characters via his etching of Panza as a rotund and vague figure, whereas the heroic Quixote is depicted astride a horse, looking ahead in all his lanky glory. Panza on the other hand seems to be looking up at Quixote's looming figure. This artwork was originally published in Les Lettres Francaises in 1955 to commemorate the 350th anniversary of the first edition of the original Spanish work.
3. The Lady of Shalott by John William Waterhouse
In Arthurian legend, lady Shalott was cursed to only view the world through a mirror reflection from isolation. However, she craves to meet Lancelot after viewing him directly (thus leading to the mirror cracking) and her journey by sea to Camelot is only marked by impending doom. The painting by Waterhouse features many metaphorical imagery such as two out of three candles aboard lady Shalott's ship extinguishing as if to signify her certain death as she approaches Camelot. The Plein air painting is on display at the Tate Britain and was heavily inspired by lord Tennyson's account of the tale in his 1832 poem 'The end of Alfred'.
4. Goose Girl by Amrita Sher-Gil
Shergil wasn't just a famed poet but also a child prodigy, as at just ten years of age, she filled sketchbooks with watercolor art based on literature and cinema. One of her works is based on the German Grimm's fairy tale of the Goose Girl which is a tale of deception and follows the false bride narrative. Shergil's painting depicts a scene in the fairy tale wherein a princess and her chambermaid travel on horseback, stopping only to quench their thirst at a nearby rivulet.
5. Draupadi by Ganesh Pyne
Pyne's reimagining of the epic Mahabharata not only focuses on the protagonist but shifts focus on the pivotal peripheral characters as well, while interspersing folk art and imagery drawn from his own private dreams, personal tragedies and from mythological subjects as well. To him, the Mahabharata suffers from a lack of joy which he brings about through his unique art such as the aforementioned Draupadi.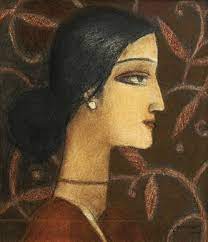 6. Mad Tea Party by Salvador Dali
Dali promises to immerse you in the magical and vibrant world created by Lewis Carroll in Alice in Wonderland with his surrealistic interpretation in this suite that features 12 heliographs for each chapter of the book. Guaranteed to fill you with whimsy and pull you into an enriching rabbit hole that was brought to life from the pages of the work of literature that it's based on!
7. Dubling by Elida Tessler
This 2010 art installation by Tessler is based on the 4311 gerunds of James Joyce's modernist work Ulysses and it features 4311 corked bottles all stamped with verbs accompanied by 4311 postcards printed with an image of Dublin's river Liffey which is in itself a central character in the novel.
We hope you liked looking through this listicle, be sure to follow us on Instagram and don't forget to share. Until then, we look forward to bringing you more such artistic content. Stay tuned for more from Adore!