Ho ho ho! Welcome again! We have yet another holiday treat for you. Today, let's go meet some of the most iconic Christmas characters in literature, shall we?
1. The Christmasaurus
This friendly dinosaur only exists in the children's classics penned by Tom Fletcher (the lead singer of one of my favourite boy bands McFly) and let's just say there's quite nobody like the Christmasaurus. As the only dinosaur left on the planet, all this magical, Christmas obsessed and music loving creature wants to do is to feel like he belongs and feel happy… And who can fault him for that, eh? That's hella relatable even to humans!
2. Jolly Christmas Postman
Everyone knows about Santa Claus, but forgets about our good pal, the jolly Christmas postman who won't rest until everyone on his rounds receives their festive tokens, letters, etc and we tip our hats to this hard working character!
3. Ebenezer Scrooge
This miserly character from Charles Dickens' A Christmas Carol learns a valuable lesson when he is visited by three ghosts- The ghosts of Christmas present, past and future/yet to come who show him the error of his selfish and frugal ways and how his ignorance have caused many of his relationships to fall apart and also led to a lot of his employees facing financial trouble in their own personal lives. This leads to old Ebenezer to change his ways for the better and this even changes his outlook towards a holiday that he initially felt was 'bah Humbug!'.
4. Jack Skellington
Tim Burton's pride and joy from The Nightmare before Christmas is a skeleton in a pin striped suit and bat shaped bowtie known as Jack Skellington who is known for his job in keeping Halloween alive (or rather, dead) in Halloweenland. But one fine day, Skellington decides that he's bored of celebrating and being the face of the same holiday and decides to go rogue along with his ghost dog Zero. He finds himself enamoured by Christmas instead and sets out on a mission to bring this holly jolly festival to the good folk over at Halloweenland with mixed results.
5. Frosty the Snowman
Oh, Frosty the snowman with his corncob pipe and two eyes made out of coal…! Who could forget that old Christmas carol? While Frosty eventually had a short-lived span of life due to his aversion to the sun (sunblock wouldn't exactly help him either), he did promise to return next Christmas to play with the kids who so adored him and brought him to life, and of course, he was even immortalised in plenty of kid-friendly holiday movies and one not so kid friendly horror movie that immortalised him as a killer snowman (we definitely don't recommend the latter!)
6. The Grinch
This furry potbellied pear shaped character with his yellowish green fur and feline features definitely intimidated me even as a kid! The Grinch is the protagonist from Dr. Seuss' beloved work 'How the Grinch stole Christmas' who lives a reclusive lifestyle atop a cliff overlooking the town of Whoville and while he isn't as fond of the holiday season as the Whos are, initially even sabotaging Christmas celebrations and stealing presents under the guise of Father Christmas, he gradually undergoes a change of heart (quite literally). He even comes with his own backstory with regards to why he's such a mean spirited creature- mainly because he is rumoured to have been born with a heart two sizes small and because he was bullied for his looks as a child. All in all, he does have the last laugh in the end since body shapers never prosper obviously and he is even favoured by the snobby mayor of Whoville's wife (the Grinch's childhood crush) later and you know how we all love seeing the reclusive underdog/anti hero succeed here at Adore…!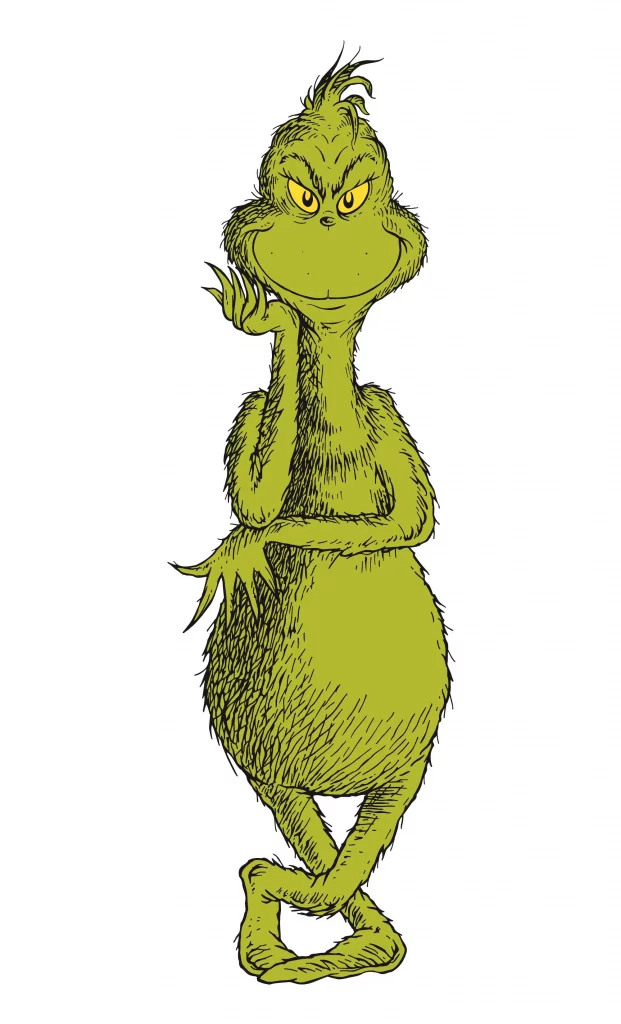 That's it for today! Be sure to share and follow us on Instagram. Until then, happy holidays and do visit us again!