Anybody ever been in a love triangle before? Well, don't… Hollywood says they're messy! Anyway, this post won't help you find love, but it will help you to successfully write a love triangle if you choose to for both screen and page.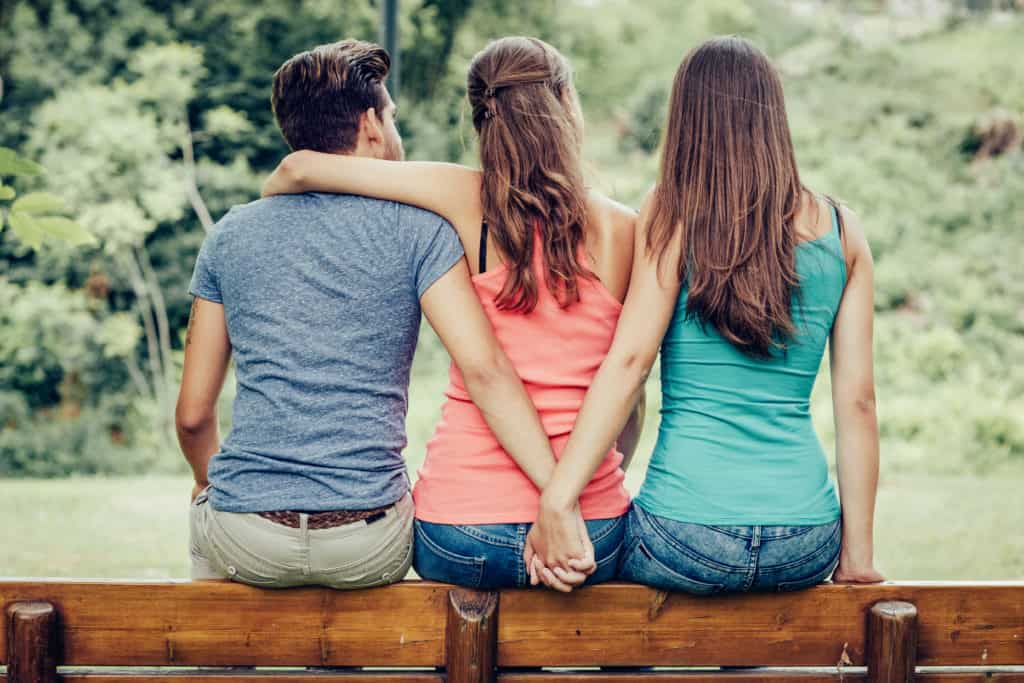 What's the meaning of a love triangle?
Love triangles are a sort of relationship that is a combination of love and conflict. It's usually a romantic relationship usually involving 3 people- 2 love interests and a protagonist.
Whether it be drama, action, musical, or even crime thriller, love triangles can be found in any genre, but the common theme is love which is often not mutual. And there's stereotypically a good guy vs bad guy storyline (not always, but it can make for a more intense love triangle)
What's the point of a love triangle?
Love triangles are used to hook the audience.
They also add drama to a seemingly perfect, smooth narrative.
It doesn't aid the protagonist so much as it adds to their problems and throws them off balance.
It helps to add layers to characters and can make them relatable or feel real to viewers.
With the presence of two additional characters in the story vying for the protagonist's attention, viewers are drawn in and overall engaged in this 'competition of love'.
It can help reveal the inner conflict of the characters and their true nature.
Lastly, it involves the viewers since you'll be biting your nails throughout and making you wonder whose side you want to be on.
What's the structure of a love triangle?
Set up:
Before the protagonist sets off on their journey of love, heartbreak, and possible reunion with the lover of their choosing, they're down on their luck in matters of love. They desire a partner who is at times out of their league. Their partner is otherwise uninterested or unavailable, which poses an obstacle and an unfulfilled desire to the protagonist.
An example of this can be seen in Bridget Jones' Diary (one of my favorite love triangles of all time), where the viewers meet Bridget in an iconic scene, moping around on her sofa in her apartment, drowning her sorrows in ice cream and singing along to Celine Dion's morose 'All by myself'. She is not only unlucky in love, but her mum is also on her ass like grass about thirty-something Bridget settling down before she's way past her 'expiry date' (yikes, as a young person with pushy parents, if that dilemma doesn't make Bridget feel relatable to you, I dunno what will!)
Meet cute 1:
The protagonist and love interest (the first of two) cross paths, but usually, there is somebody else involved in the love interest's life. This leaves the protagonist disappointed as they are already invested and in love or fantasizing about the love interest. In Bridget Jones' Diary yet again, we find Bridget crossing paths with childhood pal Darcy at her mum's Christmas party.
At her mum's insistence, she makes conversation with him but ends up making an awkward fool of herself instead.
An inciting incident:
This occurs in the second crossing of paths between the protagonist and their love interest. They confront their sexual tension. In the case of Bridget Jones, the inciting incident occurs between Bridget and the second love interest, her boss, Cleaver, whom she has a crush on.
They begin flirting, eventually leading to a hookup as she and Darcy haven't gotten off on the right foot.
Turning point 1:
The protagonist and one of the love interests are now dating, and everything is going smoothly.
Conflict:
An abrupt dark moment and conflict between characters causing a breakup. e.g Bridget and Cleaver are having the time of their life. Bridget believes it to be love at first sight, but Cleaver wants a no-strings-attached relationship.
This ultimately leads to Bridget finding out about his affair (sorry, spoilers) and them splitting up. Poor Bridge is now single again and, of course, back to square one, drowning her sorrows in Doritos and wine.
Meet cute 2:
The protagonist meets the other love interest in their life or, in some cases, rebounds with them.
For example, Bridget makes amends with Darcy after he helps her salvage a ruined dinner of blue soup, and they begin to bond over their average cooking skills.
Turning point 2: The protagonist is happy in their new relationship.
Bridget and Darcy seem to have let bygones be bygones, leave their disastrous first meet-cute in the past, and are on the same page, unlike her and Cleaver, and she feels that her broken heart has begun to mend itself due to Darcy truly loving her for who she is, accepting her for all her flaws.
Dark moment #2:
However, not everything is a bed of roses for the couple, and yet again, conflict and differences rear their ugly head in our protagonist's calm sea of love, thus leading to a storm of epic proportions.
Usually, a past love interest resurfaces to cause problems, or the protagonist and her current lover create obstacles for themselves based on their own insecurities.
When it comes to our good ol' friends Bridget and Darcy, the egotistical and snobby Cleaver returns and threatens to drive a wedge between her and Darcy. It leads to an iconic fight scene between both men, literally duking it out over Bridget.
Confrontation:
This is where the protagonist must decide between their wants and needs and choose whom they want to be with or not be with.
At times, they might even decide to dump their love interests and opt for a single life forever, although that can be quite rare in Hollywood love triangles.
In the end, Bridget does choose the man who loves her for who she is.
Resolution:
It's usually a joyful ending for both protagonist and love interest (sadly only for one of them and usually a joyful end for the more deserving one).
Answer the following questions about your characters in a love triangle
Where are they in life?
Are they happy or not in life or with their job?
Are they dating or single or unhappily married and looking to start an affair?
Are they likable and relatable?
Are they sickly sweet or hiding a dark secret, or have multiple flaws?
What's their biggest fear?
What's their want and need?
Are the love interests layered, real and suitable for the protagonist?
Are the love interests similar or distinct to each other or polar opposites?
Does one of the love interests stand out, and is it the likely choice?
What's at stake for the characters in the love story and the decisions that are taken?
Why are they searching for love in the first place? What is their purpose in the love triangle? Is it to please themselves or to please their friends and family?
And those are all the ingredients to a spicy love triangle! Be sure to share this post with everyone you cross paths with!